HER VOTE by Caroline Voagen Nelson is an animated installation that celebrates 100 years of the 19th Amendment, which granted American women the right to vote. Through moving imagery vignettes projection-mapped on a clothing line film set, artist Caroline Voagen Nelson depicts stories of the suffrage movement within the setting of early twentieth-century silent cinema.
Lifting As They Climbed
This series of portraits of notable suffragists are part of the forthcoming site-specific installation HER VOTE.
The 19th Amendment, granting American women the right to vote, passed in 1920. Even after the amendment's passing, women voters faced poll taxes and literacy tests among other restrictions due to race, ethnicity, and economic status. It would not be until the passing of the 1965 Voting Rights Act that such discrimination in voting was explicitly prohibited. Many notable suffragists who overcame obstacles for women's suffrage and equal rights still faced persecution after the amendment's passing. These are highlighted individuals whose bravery and persistence were a catalyst for change.
Ida B Wells
In March 1913, Ida B Wells joined the first suffrage parade in Washington, D.C. She was advised to protest in the back of the crowd to avoid racial tensions. Wells refused. She said, "Either I go with you or not at all. I am not taking this stand because I personally wish for recognition. I am doing it for the future benefit of my whole race." She rejoined the march in her original spot, arm in arm with two white co-suffragists from her state, receiving major media coverage in the process. Wells helped establish the Alpha Suffrage Club and her work contributed to passing the Presidential and Municipal Bill in Illinois in 1913 — allowing partial suffrage for women over 21.
Mary Church Terrell
Mary Church Terrell coined the phase—"Lifting as we Climb," — the motto of the National Association of Colored Women (NACW), which she helped found in 1896. Terrell fought for women's suffrage and civil rights because she realized that she belonged to '"the only group in this country that has two such huge obstacles to surmount…both sex and race." Terrell campaigned for civil rights tirelessly throughout her life. At 82, she protested segregation in restaurants in Washington D.C. and saw the Supreme Court rule in her favor three years later in 1953, just before her passing.
Dr. Mabel Ping-Hua Lee
Renowned Chinese suffragist Dr. Mabel Ping-Hua Lee helped lead the NYC suffrage protests on horseback when she was 16. Newspapers such as the New York Tribune caught wind and ran profile articles about Lee. A few years later, the New York Times covered her speech "The Submerged Half" on women's rights. Though Lee fought for suffrage, she could not vote when the 19th Amendment was passed due to the Chinese Exclusion Act, a federal law that denied American citizenship to Chinese immigrants from 1882–1943. A year after the 19th Amendment became law, Lee graduated from Columbia University, becoming the first Chinese-American woman to receive a PhD in economics.
Lucy Burns
Lucy Burns was a suffragist who was imprisoned more than six times while protesting for
women's voting rights. She was in prison for months at a time, where she was tortured and
instigated hunger strikes. She holds the "Jailed for Freedom" pin, awarded by the National
Women's Party and given to many women imprisoned for peaceful protesting. More than 90 women were sent to prison for protesting on the charge of "obstructing traffic." After being released from prison in 1919, Burns helped lead a national train tour with 26 other women who had also been tortured and force-fed in prison for protesting. The 1919 train tour traveled throughout the US to share their stories. The tour helped build public opinion for passing of the 19th Amendment for women's right to vote.
HARRY T. BURN
Harry T. Burn cast the single deciding vote in Tennessee that passed the 19th Amendment for women's right to vote nationwide. He was planning on voting against the amendment, but he changed his mind in favor of women's suffrage after reading a letter from his mother. Men who were against women's suffrage wore a red rose in contrast to the yellow rose, which symbolized supporting the Suffrage Movement.

Zitkála-Šá was a writer, musician and suffragist who co-founded the National Council of American Indians. She is holding its constitution, and signed her second name, Gertrude Bonnin, as president. The matriarchal political power of women within indigenous cultures was a source of inspiration for suffragists. Zitkála-Šá was often invited to speak at suffrage conferences and join parades. And yet, she could not vote when the 19th Amendment was passed. Zitkála-Šá played an essential role in passing the 1924 Indian Citizenship Act. The right to vote, however, was not guaranteed nationwide. Unjust restrictions of literacy tests and poll taxes were in place, until the Voting Rights Act of 1965. Zitkála-Šá helped compose the first Native American opera, wrote extensively, gave public speeches, and continued to serve as president of the National Council of American Indians until her passing in 1938.
Portraits of notable figures will be added to this page throughout the Centennial Suffrage anniversary month of August 2020, including:
Mabel Lee | Zitkála-Šá | Lucy Burns | Alice Paul | Harry Burn
Scan, & learn more about the stories from the Suffrage Movement that inspired the animations in the installation.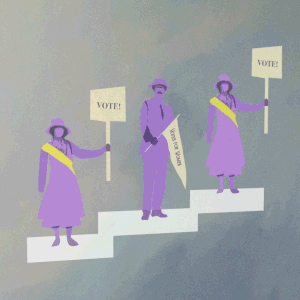 Women + men protesting for suffrage. Silhouettes are created from collaging archival photos. Color palette represents the colors of the movement: royal purple + golden yellow. Highlighted from original photographs are outlines of hair + clothing details.
This work in progress shows a timeline of the ratification of the 19th Amendment. 36 states approved (hence 36 stars on the Suffragist Flag) the amendment in 1920. It was another 64 years before all states fully acknowledged the amendment, in 1984. Future timelines will show 72 years of protests leading up to 1920 - beginning with the first women's rights convention in 1848.